We thank The Village Hostel Canberra for providing us accomodation free of charge.
You will be in a prime location
When you are in Canberra, you are at centre of Australia, politically speaking. To make the most of ACT's capital city, you might also consider staying at The Village Hostel. It's pretty much at the centre of Australia's 'centre' city 😎

For trendy restaurants and bars, the suburb Braddon is just 10 minutes' walk away. To immerse in lifestyle shopping, Canberra Centre is a few minutes' walk (you probably won't even need a map). If you'd like to appreciate culture, the National Museum, Parliament House (both the current and older one), and Lake Burley Griffin are within a 10-minute Uber ride.
Your accomodation at The Village Hostel is conveniently located in the CBD of Canberra. As much as you might be tempted to explore the city, there are a few leisurely reasons to stay in. You can get comfortable in the games room on the top floor, where a pool table, TV and plenty of books await. Walking in further, the rooftop courtyard is where you can see a government building, balmy trees, and the surrounding urban landscape. It's also where you can enjoy a barbecue and a beer with friends.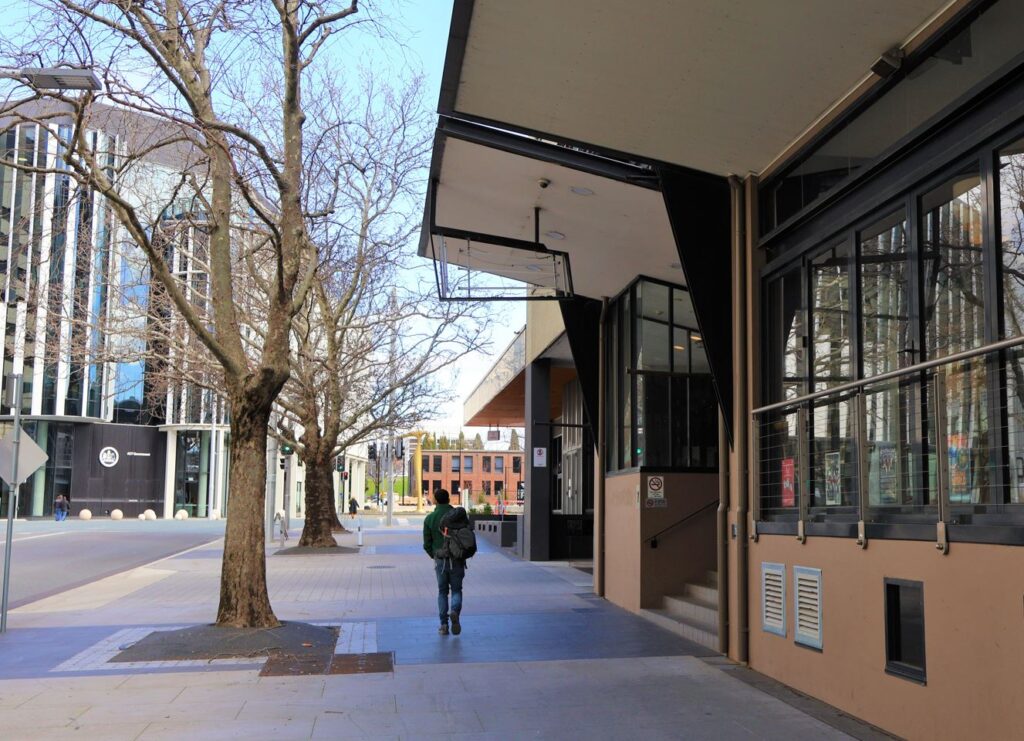 The Village Hostel is where YHA Australia used to be.
Get comfortable solo or in a group
There are a variety of flexible living options. Over 3 colour-splashed floors, The Village Hostel features both shared and private rooms. If you are travelling by yourself, there are dormitories with 4 to 10 beds where new friendships can be made (and adventures to be explored). You can opt for male-only, female-only, or mixed rooms too.
If you are travelling as a family or a group, you might prefer a private room. Each of these come with a work desk, and either an ensuite or shared bathroom. Air conditioning can be flexibly adjusted to suit your group to ensure a comfortable sleep.
If you're on a budget or would prefer to personally cook your food, The Village has a spacious kitchen with gas cooktops, crockery and light-filled dining area. While enjoying your meal, you can chat to the reception desk for day-trip ideas and places to visit. You wouldn't need to walk far to find interesting areas though, with foodie hot spots like Dickson and Lonsdale Street close by.
Bookings for The Village Hostel can be made here.
Click or tap images to see full size
Keen to have a digital partner to grow your business?